SAMPLE SEARCHES
Here are a couple of sample searches, to illustrate how amagarea.com works:
Example 1: Let's say you know you want to subscribe to the Large Print edition of Reader's Digest.

Go to our home page, type in: Reader's Digest Large Print, and click on Search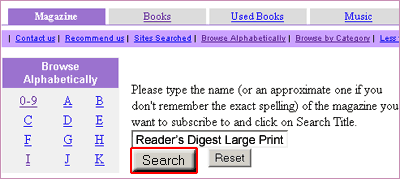 ---

Then click on the Title or Click here to compare the price, and you will see a price comparison table, showing you what your subscription will cost you from each of the sites that offers the subscription.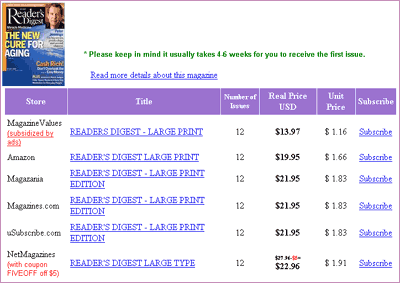 ---

Click on Subscribe to link to the site you want to order from and place your order. Note that we show you information on discount coupons but you still must enter the coupon information while ordering if you want to receive the discounted price.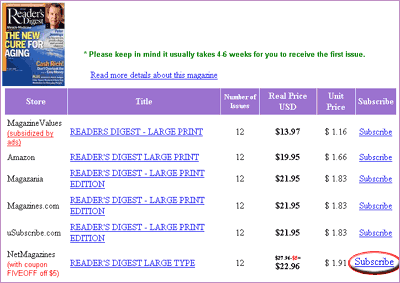 ---

We strongly suggest you print out a copy of your finalized order or copy down all relevant information for your records. Amagarea.com cannot track your order for you, for reasons of your privacy and the security of your online financial information.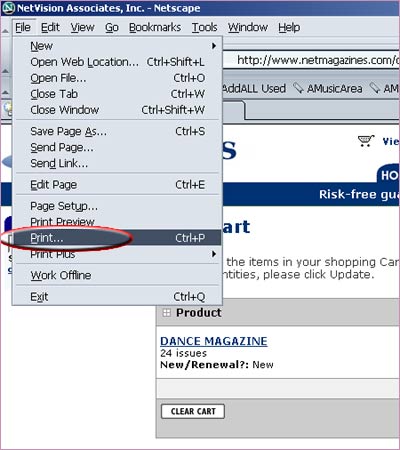 Example 2: Let's say you want to see if Reader's Digest is available in Spanish.
Go to our home page, type in: Reader's Digest Spanish, and sure enough, it is available in Spanish.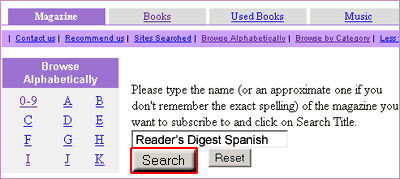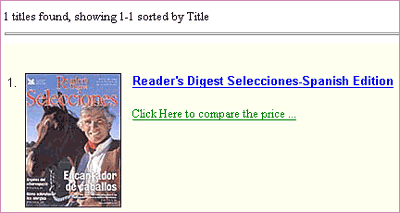 Example 3: Let's say you don't know what magazine you want but your son is fascinated by his fish tank.
You could go to our home page and try Browse by Category.

There is no category for fish but Animals and Pets looks like a possibility.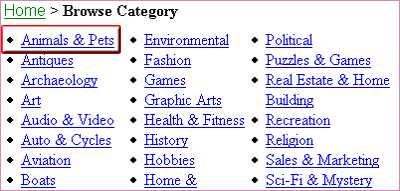 Sure enough, there is a magazine on Aquarium Fish.